So first of all I want to just take a moment to talk about how excited I am to be writing a blog post. It's something I've wanted to do for some time now but Etsy didn't have a built-in option and the thought of trying to manage a Blogger page (or other third party blog platform) and somehow integrate it into all our other social pages made my little head hurt. So, when I saw that Etsy/Pattern now offers a blog* - I couldn't wait to get started!
I'm going to start off by talking about who I am and where Wooly Doodle came from, and then I'll use this blog to talk about all kinds of things - new products, favourite trends, why Luke wasn't chosen as the next Bachelor and anything else you might want to know!
Meet the maker
For those of you who haven't met me (which is most of you as I'll admit to being a complete introvert), you might know me as Elizabeth Boychuk (or as of last Saturday - Elizabeth Suni). Ever since I was little, I've been making things and also trying to sell things - sometimes combining the two.
Growing up, my birthday and Christmas gifts often were made up of various art kits and I loved creating. Period. Once I got a bit older and the internet was a thing - I felt like the possibilities were endless and I began teaching myself all the creative things I'd ever wanted to learn.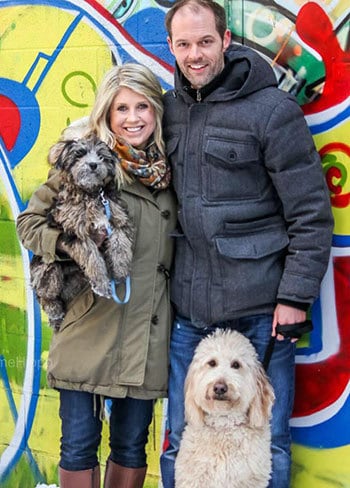 Currently, I live in a small town in SW Ontario (Canada) with my husband and our two dogs Cooper and Howard. In December we will be welcoming yet another male to our household with the arrival of our baby boy. I work full-time leading a graphic design and photography team at TELUS which keeps me equally busy and inspired. Wooly Doodle is my #sidehustle and is where I pour most of my free time.
I won't lie, sometimes balancing everything is a lot and I find it frustrating that I don't have more time to dedicate to WD but when I see my creations on the cutest little babes and see how the WD brand is gaining more and more recognition across Canada, my heart skips a beat and it makes having our basement look like disaster zone 90% of the time worth it. 
How Wooly Doodle started
Wooly Doodle actually started as a knitting company after I had taught myself to knit on YouTube. My first and most successful product was a chunky knit scarf which I sold quite a few of. The first product I actually put on Etsy was a pair of knit Easter bunny ears for dogs... and I officially sold zero (shocker, I know).

I started to change gears when we were about about four months into our first pregnancy. Knowing that I had a strong dislike of traditional/cutesy baby clothes, I wanted to learn how to sew so that our little one could have unique, modern attire (at least for the first two years of their life). After about an hour of watching YouTube and ordering a cheap machine of Amazon Prime, I was off to the races.
Just as quickly as things started, they (temporarily) came to an end when we got devastating news about our little girl. At 23 weeks, that pregnancy came to an end and I wasn't sure if I'd ever sew again. After a few months and lots of encouragement from people who really thought I was on to something great, I dusted off the machines and got back into it.
In January, I officially Launched Wooly Doodle - Savvy Apparel for Tiny Humans and Fur Babies - and the journey from there has been amazing. Seeing the brand I've created grow and watching people react to things that I've made has been surreal and the support I've received both locally and across North America has been incredibly touching. I don't do what I do to make money (because trust me - the fabrics I use are darn expensive and I actually really like my day job). I do it because I get a sense of pride and fulfillment out of every single thing I make and I'm able to do it because of you. 
Thank you for being part of this journey.